13 Nov

The Race May Be Over But We Haven't Crossed the Finish Line Yet

Komen San Diego is San Diego County's largest funder of free breast cancer treatments, services and support. Last year, we had to turn away $590,000 in requests for funding. Help us meet our goal of $1.4 million. Make a donation today of any amount. Every penny counts. And we are counting on you.
Race fundraising deadline:

Tuesday, December 2
1. Would you ask just 5 more people to donate to your team?
2. If you haven't self-donated yet, would you donate $25? $125?
In these last few weeks, please push hard!
National City FAMILY FUNDRAISES $8K
Sandra Lopez (above and right) has a lot of life to live and a spirit that keeps fighting her Stage 4 breast cancer diagnosis.  She has been fighting for her life since 2008.  When she was first diagnosed, she didn't have health insurance so she turned to Komen. A Komen clinic found Sandra's breast cancer and Komen provided the funding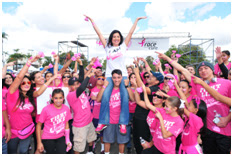 for her chemotherapy, radiation and other treatments.
If love was money, Sandra would be the wealthiest woman in the world.  She and her sister Karla recruited 150 people to join their team in this year's Race – and they raised more than $2,500. Between registration fees and fundraising they brought in over $8k for our community!  The Lopez Family is a force to be reckoned with and we are inspired by them every day.
DONATE TO TEAM LOPEZ
DONATE TO THE RACE FOR THE CURE
LOG IN AND CONTINUE TO FUNDRAISE