How to Fundraise for the Race using Facebook
Watch a quick video or follow the steps below:
This application is only available for Race participants. A non-Facebook user may receive the email to install the application, but would need to register with Facebook before they can install the app and start fundraising.
2. Click on "Fundraise with Facebook."

You can typically find this this on your Participant Center homepage, Thank You page after registration, Thank You email after registration, or an email with a subject to Fundraise for Susan G. Komen Race for the Cure ® through Facebook. When clicked, you will be taken through the following steps in Facebook. You will need to log into Facebook if you are not already.
3. Install the Susan G. Komen Race for the Cure® application.
Allow the Susan G. Komen Race for the Cure® application to access your Facebook information to update your fundraising progress and make sure your donations show up on your personal and team pages.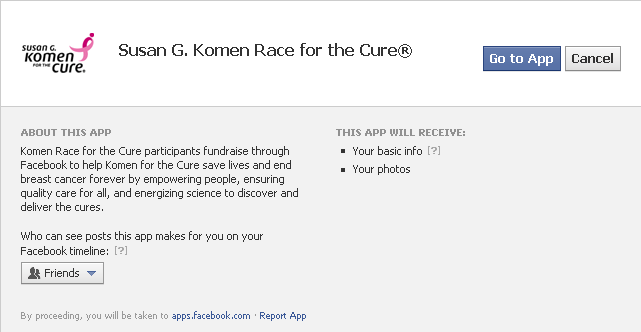 4. Get the Word Out!
It's that simple! Once your Susan G. Komen Race for the Cure® fundraising app is installed, you can Donate to your Profile Picture, Get the Word Out to your Friends, and review your progress with the Progress Indicator.
You can also Share Your Story with Friends and schedule Newsfeeds to remind your friends to help you meet your fundraising goals.
Get to your dashboard anytime by logging in to Facebook:
1. Click Account, in the upper right corner of the screen.
2. Click on Apps from the left hand navigation.
3. Click on the Susan G. Komen General Application.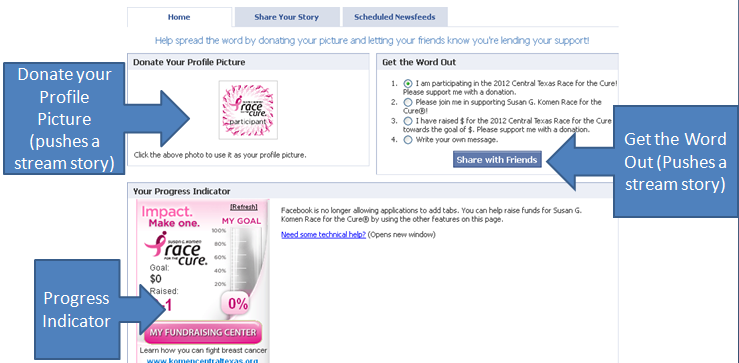 Having trouble installing the Race application?
Try uninstalling an older version from your Account Settings. Follow these steps to clear your unwanted applications before trying to install the new application.
Watch a quick video or follow the step by step instructions here: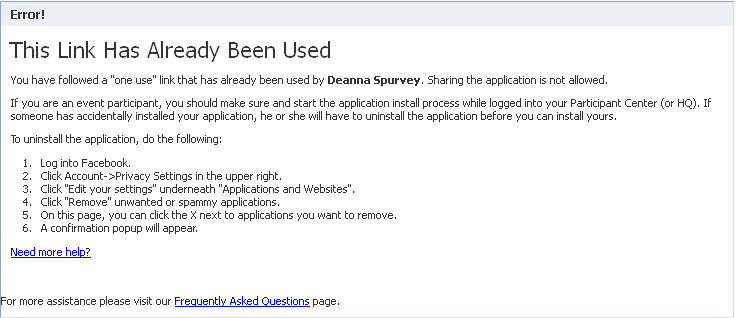 1. Log into Facebook.
2. Click Account, then click on Privacy Settings in the upper right.
3. Click Edit your settings underneath "Applications and Websites."
4. Click Remove unwanted or spammy applications.
5. On this page, you can click the X next to the applications you want to remove.

6. A confirmation popup will appear.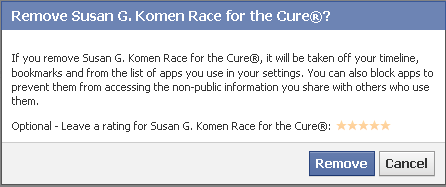 If you are still having trouble installing the app and have tried the Facebook Help Center, contact info@sdkomen.org for assistance.